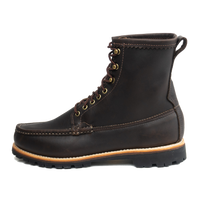 Weathered Oak Backcountry (Premier Build)
- 6 / D
$685.00
Well, its been a month since you've shipped it out, but I still haven't received it?
Long time wearer of Russell boots and shoes
As someone who has worn Russell footwear since the 1980's, my immediate concern when I learned that Russell Moccasin had changed hands was that some slick marketeer had simply purchased the Russell name. That brought to mind the demise of original companies such as Filson and Eddie Bauer (who used to sell Russell, by the way, but I digress....) On receiving these boots, my fears were put to rest. These are clearly the same quality boots that they have ever been. And that's the best business strategy to use. Let's hit the trail!
Thanks for your continued support Peter! Can't wait to see some pics from the trail!